Sleeping In Makes You Smarter and Richer?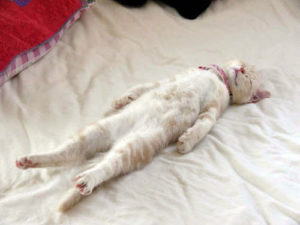 I've always thought so, but there's new scientific evidence that suggests that night owls are more energized than their early rising counter parts.
Dr Philippe Peigneux, of the University of Liege in Belgium, said: 'During the evening session, evening types were less sleepy and tended to perform faster than morning types.'

Previous studies have shown that getting up late appears to be in our DNA, with our body clock regulated by a series of genes which determine whether we are larks or owls. Other studies have debunked the popular saying 'early to bed and early to rise makes a man healthy, wealthy and wise'. Night owls have been shown to be cleverer than larks, with quicker minds and better memories. They also earn more.
I've had times in my life where I've risen with the dawn (in Seattle it's essential if you want UV), but for the most part I've seen every infomercial known to man out of the corner of my eye.
More often than not I've watched the Sun come up and then either dragged myself through the day or climbed into my sealed coffin depending on my schedule.
It's hard for me to resist, my creative and productivity peak tends to be from 9pm-3am. While many of my friends were out drinking and socializing, I was energized by the thrill of building a lego robot, writing a new chapter, carving a 3D building, designing a new website.  Of course I'm also very outgoing, presently I'm having difficulty tapping into that stream of creativity.  My mind and body is still craving the stimulus of keeping up with dozens of very close friends in San Francisco.
I think I need to set a new schedule and adjust my circadian rhythm as if I were in another time zone on the other side of the world.  The best process for me to do that is simply to stay up for 36 hours until the time I want to set as my new bedtime.  Then generally I wake 7 hours later.  I think I'm complicating matters with the HGH supplement I take.  It makes you sleep like a teenager, the benefit is that my skin and muscles are regenerating as if I were much younger.  We'll see, I'm ready to be smarter and richer again.
blog comments powered by

Disqus